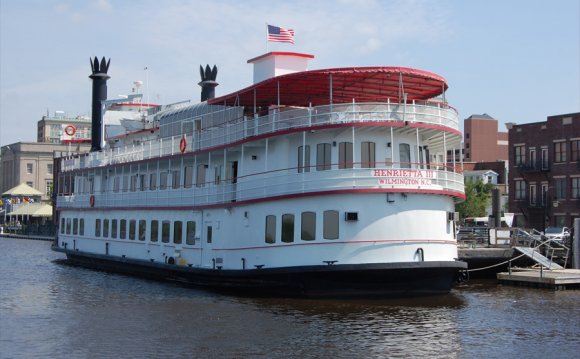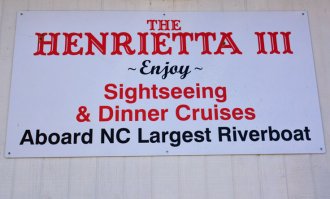 The Henrietta III was inspired by the first "Henrietta, " one of the original steamboats on the Cape Fear River. Built in 1817, and imagined and managed by local plantation owner James Seawell, this first vessel was christened "Henrietta" after Seawell's daughter, and was put into service on the Cape Fear River in 1818, under the command of Captain Charles Taws. The Henrietta enjoyed 40 years of success, running in between Wilmington and Fayetteville, and logging away over 1.5 million miles along the Cape Fear.
The Henrietta II was constructed nearly 170 years later, making its Wilmington debut in 1988 under the ownership of Cape Fear Riverboats, Inc. and quickly developed a reputation as one of Wilmington's most notable floating attractions. She was sold in 2000, and replaced by the illustrious Henrietta III, which was originally built as a smaller dinner riverboat, and was later enlarged to be a casino riverboat, and the largest cruise boat in the state. This behemoth has three levels of decks, including two lower decks with dining facilities and dancing space, and an upper deck with an enclosed atrium and wide open sun deck to take in the Cape Fear views.
With the amount of space available, as well as facilities which include a kitchen and multiple areas to congregate or relax, the Henrietta III offers a world of specialized and distinct tours. The most popular cruise is an hour or so narrated sightseeing tour of Wilmington and the lower Cape Fear River, however, there are dozens more specialized cruises to choose from throughout the year.
Romantics can embark on a sunset cruise along the Black Water River, complete with a masterfully prepared meal enjoyed on the enclosed decks overlooking the water. Additional special dinner cruises include a "TGIF Dinner Cruise" which is a great way for busy professionals to unwind after a hard week, and the "Murder Mystery Dinner Cruise, " a fun tour of the Cape Fear that combines phenomenal food with mystery, intrigue, and a cargo of colorful characters. Dinner cruises generally last between 3-4 hours, depending on the cruise type, and are available in the spring, summer and fall months.
Lunch cruises are also available, and are ideal for families who want to enjoy an afternoon exploring the historic Downtown from a different vantage point. Featuring a full buffet, and a narration which explains the sites, lunch cruises generally last 1-2 hours, and are available from April through October.
Many of the Henrietta III's special cruises coincide with local holiday celebrations. Tour-goers will find ample options for these "special cruises, " such as a romantic Valentines Cruises, a Mother's Day brunch cruise, and a 4th of July Cruise that gives passengers an unparalleled view of Wilmington's fireworks over the water. The Henrietta III even hosts a New Year's Eve cruise which features Heavy Hors d' Oeuvres, dancing, party favors, and a champagne toast at Midnight. All of these special cruises book up quickly, (sometimes months in advance), so visitors who want to celebrate a holiday with the Henrietta III are advised to reserve their tickets as early as possible.
The Henrietta III is also available to school groups and educators, and is able to tailor a cruise on the local history, culture, and wildlife of the Cape Fear River to provide an educational and deeply fun lesson that students will never forget. Future brides and grooms, as well as special organizations, can also reserve the Henrietta III for a private event, wedding, or reception, and host a celebration that guests will simply treasure.
With so many options, visitors will find that the cruise rates vary greatly, beginning at around $17 for adults and $5.00 for children 2-12 for simple narrated cruises along the Cape Fear River. Lunch and dinner tickets are a bit pricier, with a full meal included, and special event cruises and private reservations are individually priced. Visit the Cape Fear Riverboats website for a complete listing of tours available and specific rates.
The Henrietta III is a show-stopping attraction, and a climb onboard is an experience that any Wilmington visitor will never forget. With sprawling views of the Cape Fear River, detailed narrations that shed new light on the region, and romantic, fun, or educational cruises available to suit all tastes, the Henrietta III is one attraction that won't be leaving this port city anytime soon.
Source: www.wilmington-nc.com
RELATED VIDEO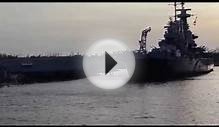 Henrietta III Evening Sightseeing and Dinner Cruise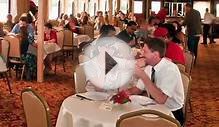 BICF CAPE FEAR RIVERBOATS HENRIETTA III, Wilmington, NC
Share this Post