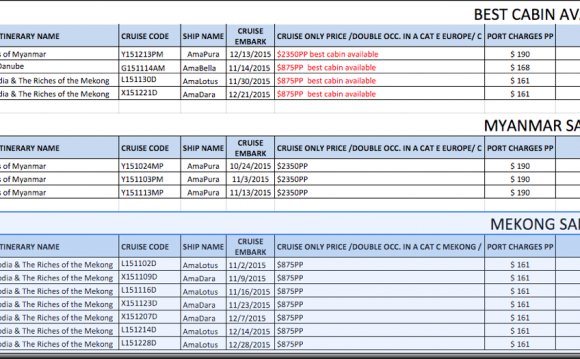 How to Get the Best Airline Employee Cruise Discount
Airline employee cruise deals vary by the cruise line, the ship, the sailing date and the cabin category.. Some cruise lines will not open up airline employee cruise discounts on any sailings before about 2 or 3 months in advance. Other cruise lines such as Carnival will open up airline employee cruise rates as much as almost a year in advance. Last minute airline employee cruise discounts are often available if you are flexible on where and when you go as well as the cabin type you will sail in.If you want a particular ship on a particular sailing date and a particular type of cabin, then waiting until the last minute for a deal may not be a wise option. The ship may be open but the cabin type may not be such as oceanview cabin with a balcony to Alasa or a suite on any sailing. Also if you are trying to get cabins together this may not be an option on close in sailings. In those cases you would want to book in advance at the best available airline employee cruise deal being offered.
If you are a family of 4 or 5 and want to get one cabin, often the last minute cabins are only for double occupancy due to Coast Guard regulations. If you are really flexible and don't care about the ship, destination or cabin type, then waiting until the last minute for an interline cruise discount is your best bet.
In any case you want to sign up for the interline emails offered by an interline travel agency. InterlineTravel.com sends out airline employee cruise updates about twice a week and updates their website almost daily with new interline cruise deals. There is no charge to sign up for their interline cruise emails, you just need access to their website.To get access to InterlineTravel.com, per their website instructions, "You will need a user name and password to access our site. In order to get a user name and password you should email us from an airline email address such as @aa.com, @ual.com, @fedex.com, etc or fax us at 817 488-6291 proof of employment status such as a copy of your airline ID, a letter of employment or a copy of a paystub. If you fax us please clearly print your email address on the fax and we will email you the access info."
Now do not include airfare, thus you have to be able to get to the port of departure prior to the ship leaving. The cruise lines DO NOT offer "Bump Protection" on cruises. Many interliners go in the day before departure particularly in the winter when a winter storm can throw the entire airline industry into turmoil.Watching the weather is important. If a snow storm is due to hit on the day you are traveling you could end up missing your flight you don't get a refund. Stay aware of what the weather is all along your proposed flight path and leave early if you need to. Better to pay for an extra night at a hotel and make your cruise than standing on the pier and the ship sails into the sunset.
Source: www.airlineemployeecruisedeals.com
Share this Post