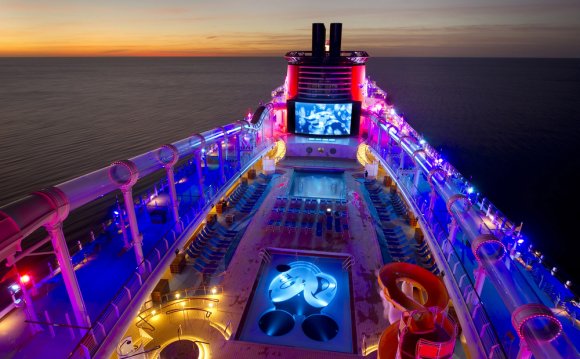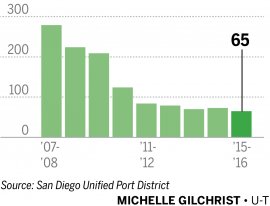 Nearly five years after the Port of San Diego debuted a gleaming new terminal to welcome the slew of ocean liners it anticipated would dock here, the local cruise industry remains stuck in the doldrums, still awaiting a promised rebound.
The recently commenced cruise season will bring the fewest number of ships to San Diego in a decade, yet there are hints of a long-awaited revival next year as passengers — and the cruise lines — regain confidence in the once-maligned Mexican Riviera.
Cruise ship passengers in San Diego
For the entire 2016-17 season, San Diego anticipates a total passenger count of about 200, 000 spread among all the cruise lines coming here, compared to just 170, 000 for 2015-16.
"I continue to see growth out of San Diego, " said Simon Douwes, senior director of deployment and itinerary planning for Holland America. "The safety situation in Mexico continues to improve and we're seeing quite a high demand for the Mexican Riviera cruises. Cruise lines in general increase their fleets all the time, and all of those ships can't sail just out of Fort Lauderdale and Miami, so definitely for San Diego, things can only get better."
Disney Cruise Lines is becoming more confident about itineraries to Baja California. Hayne Palmour IV
Disney Cruise Lines is becoming more confident about itineraries to Baja California.
That's a stunning reversal in sentiment from just a few years ago when multiple cruise lines began pulling their ships from San Diego and sharply reduced their itineraries here and in Los Angeles, which also has experienced a seismic shift in its once thriving cruise business. As reports of drug-related violence grew — including an armed robbery of cruise ship passengers on a Puerto Vallarta-area shore excursion — Mexican voyages quickly fell out of favor. Nervous cruise lines responded by repositioning their ships to more lucrative destinations in Europe, Australia and elsewhere.
Confidence in Mexico
But optimism about Mexico is returning, insists the Florida Caribbean Cruise Association, a trade group whose membership spans the Caribbean, Central America and Mexico. Association president Michele Paige points to the port of Mazatlan as evidence of a turnaround in the making.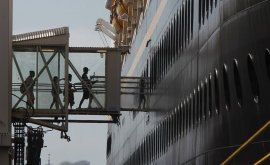 In 2012, the port city had been banished from nearly all cruise ship itineraries following criminal incidents targeting tourists, but some 200, 000 passengers are expected to visit in the coming year, Paige said. Credit the governor of the state of Sinaloa for wooing the cruise lines back with much improved security patrols, more appealing tours and an upgraded boardwalk, she said.
"I think San Diego is on the cusp of having a tremendous increase, " Paige said. "Your destiny is tied to Mexico, and Mexico is doing a lot right."
While San Diego and Los Angeles are expecting modest growth in cruise ship visits in the near term, it will still be years, if at all, before there is a return to the ports' heyday in the mid- to late 2000s when as many as many as 900, 000 passengers came through San Diego and more than a million at the San Pedro port.
A 2011 study commissioned by San Diego Unified Port District predicted as much. It concluded then that the beginnings of a rebound would likely arrive between 2015 and 2017 but cautioned that it could be as long as 15 years or more before San Diego's peak levels of passenger volumes would resume.
At the time of the study, the port had just debuted its $28 million terminal on the Broadway Pier, which had been conceived as an overflow facility for ships that could not be accommodated at the larger B Street terminal.
This cruise season, there will be just two instances when ocean liners will berth at the Broadway Pier.
"Mexico has committed to safety and security and hasn't had the violence they had in 2009, 2010 and 2011, but at the same time the cruise lines haven't jumped back into the market with the same percentage growth, " said Adam Deaton, cruise business analyst for the Port of San Diego. "A lot of that is wait and see. While confidence in the area is coming back from the cruise lines, it's going to take some time to rebuild those perceptions about Mexico, and the other side is, what new can you do in Mexico to reignite that demand?"
Where Mexico itineraries at one time represented 75 percent of San Diego sailings, they have sunk to a little more than 40 percent of cruises originating here, Deaton said.
The Port has been able to supplement its waning Mexican Riviera cruise business with longer voyages heading to South America that also stop in Mexico; Hawaii, including the Big Island and Oahu; and the Panama Canal, with those trips ending in Florida. There are even a few cruises that head to the South Pacific, Australia and New Zealand.
Tired ports
Like Deaton, Los Angeles port official Christopher Chase is reserved in his expectations for a future revival, even as San Pedro has seen a slight uptick in cruise calls. Like it or not, Southern California's cruise industry fortunes are tied to the Mexican coast, which offers far fewer diverse offerings than the vast Caribbean, where some cruise lines themselves are investing in new island experiences that include features like zip lining and a lazy river-style water park.
"Where they're going in Mexico with these ships has not kept pace with improvements made around the world, and with new markets opening, like Cuba and China, at the end of the day the cruise lines can make more money elsewhere, " said Chase. "The flip side is we have robust local markets that are interesting to the cruise lines because we have a lot of people living here who have money, but if enough people are willing to fly to take cruises, that's another thing to consider.
Mexican itineraries used to make up 75 percent of the cruises out of San Diego, but that number recently has shrunk to just over 40 percent. Hayne Palmour IV
Mexican itineraries used to make up 75 percent of the cruises out of San Diego, but that number recently has shrunk to just over 40 percent.
"We have done work with the different tourism ministries in Mexico, but someone still needs to spend money and that always seems to be the hurdle. In San Diego and L.A., we can't spend money to create new destinations in Mexico."
Source: www.sandiegouniontribune.com
RELATED VIDEO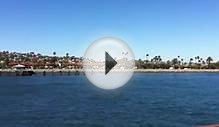 San diego cruise
San Diego Cruises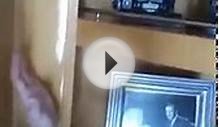 Disney cruise from San Diego to Mexico part 2
Share this Post