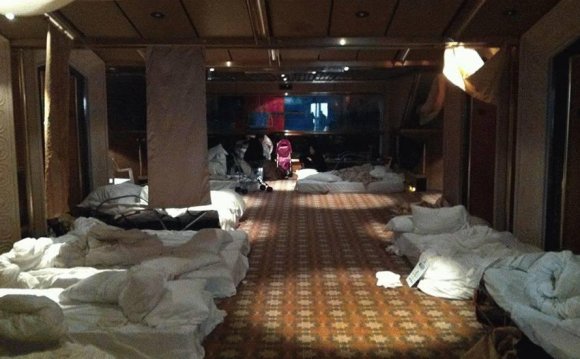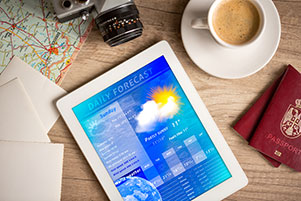 How can the weather affect my cruise experience?
Like any other vessel that sails the high seas or rivers or lakes, cruise ships are at the mercy of the weather. Cruise lines know this and try to place their ships in destinations where the weather is less likely to affect the itinerary, but avoiding inclement weather is never guaranteed. From rain, hurricanes and high winds to fog and low or high waters, there are many ways in which weather can force a cruise off its original course - or simply ruin your beach day.
Cruise ships sailing to the Bahamas, Bermuda, Mexico and the Caribbean during hurricane season on both the East and West Coasts of the U.S. often reroute or skip ports to avoid storms in the area. Hawaii cruises also can be affected, though less frequently. Ships departing from Galveston and Tampa in the winter and spring often run into fog, leading to delayed departures and at least one canceled cruise a season. Some tender ports (ports that must be reached via small boats that go back and forth between your cruise ship and shore) like Grand Turk, Belize City, Grand Cayman, Princess Cays and Great Stirrup Cay in the Caribbean and Bahamas - as well as Santorini, Cannes and Split in Europe - are commonly skipped because of high winds. River cruises are not immune either, often rerouting or putting passengers on tour buses because river waters are too high or too low. Even when ports are not missed entirely, arrival can be delayed and your time ashore cut short.
And any destination can be cold, rainy, cloudy or windy. Bad weather can mean anything from less impressive photos or a canceled helicopter ride to a rained-out snorkel trip.
What happens if my cruise ship reroutes or skips a port?
First of all, you might not know right away whether or not a port will be skipped. In some cases, such as hurricanes, you'll probably know at least a day ahead of time. Other times, a captain may actually attempt to dock, but be unable to and thus skip the port call.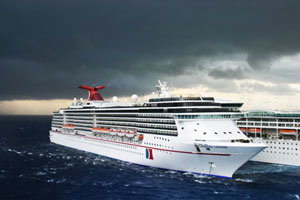 If the captain of your cruise decides it's too dangerous to proceed with the scheduled itinerary, he might implement any number of alternative plans. You might get one or more extra days at sea, or the captain could swap out the missed port for a new port. Sometimes, the entire order of ports is rearranged so that all are still visited but at times when the weather will be less disruptive. Less frequently, but not unheard of, the ship will be forced to switch destinations. For example, your Eastern Caribbean itinerary could be changed to a Western Caribbean one, or your entire Caribbean cruise will be replaced by a Bermuda or New England/Canada sailing.
Are cruises ever canceled because of bad weather?
Because ships can move around bad weather, full cancellations are rare. But they do happen. Cruise lines are loathe to cancel sailings and try to wait as long as possible before making a decision, while still trying to give passengers enough lead time to make alternate plans if necessary. If a line does cancel, it will offer compensation - usually a full refund of the cruise fare and possibly an additional 25 percent or more of your fare paid, given in the form of a future cruise certificate. For example, during 2012's Superstorm Sandy, Carnival Cruise Line canceled two sailings. Passengers on both cruises were given full refunds, and those on one of the sailings (which was canceled the day it was set to sail) also received a credit to be used toward a future cruise, as well as a dinner voucher for the evening the ship was scheduled to set sail.
Can I cancel my cruise booking if I know a storm is forecast?
You're always free to cancel, but in most cases you will lose the full price you paid for the cruise (minus port fees). In instance of extremely severe storms (like Sandy), cruise lines will allow passengers to cancel without (or with minimal) penalty. Cruise Critic always recommends buying travel insurance that covers weather disruptions. This might not allow you to cancel because of impending storms, but it will cover you for travel disruptions caused by a storm.
Am I entitled to a refund or other compensation if I miss a port because of weather?
When a port is skipped, the only compensation you are entitled to is that destination's port fees. This is usually a minimal amount (think $7 to $20) and will be given to you in the form of a shipboard credit that will be applied toward your onboard spending. Occasionally, a cruise line will offer a little extra spending money, especially if multiple ports are missed or the entire itinerary has to be changed, but this is not the norm, and you're not entitled to it.
What about refunds for any shore excursions I booked for that port?
If you have booked a shore excursion through the cruise line you're sailing, you will receive a full refund if the port of call is canceled or arrival is delayed in a way that prevents you from taking the shore excursion. If you booked the shore excursion independently, the cruise line will not refund you. Many independent shore excursion operators understand that port calls get canceled and will give refunds, but not all. Ask about all refund policies when considering booking a shore excursion with a company other than the cruise line.
What do I do on a cruise ship if it's raining?
We're not going to lie. If you're sailing in the Caribbean and it's raining, it's a bummer. Though we have seen a few hardy souls brave the waterslides in bad weather, most outdoor recreational activities and facilities - including pool games, ropes courses, zip lines, rock climbing walls, surf simulators and the like - will be shut down. But just because it's pouring, it doesn't mean there's nothing to do. Most of your ship is indoors; that includes entertainment lounges, theaters, restaurants and bars. On some ships, that even includes play spaces like arcades, bowling alleys and ice or roller skating rinks. When it's raining, the onboard entertainment staff will usually increase the number of indoor recreational activities, such as trivia, movie screenings, scavenger hunts, and arts and crafts, as well.
Will my cruise ship get overcrowded because everyone is staying inside?
Indoor areas like lounges and the buffet, as well as activities, can get crowded when the weather is bad. An extra restaurant may be opened for lunch, and onboard entertainment staff will attempt to run enough activities to spread the crowds a little, but there is only so much that can be done when everyone has to be indoors. Our best advice is to pack a generous helping of patience and remember you're on vacation. (Or hole up in your cabin for some peace and quiet.)
Am I entitled to a refund or other compensation if no outdoor activities can be offered because of the weather?
No, you are not. Cruise lines are not responsible for the weather. If little to no outdoor recreation is possible, the cruise lines will increase their lineup of indoor activities.
Source: www.cruisecritic.com
RELATED VIDEO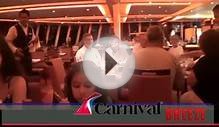 Carnival Cruise BREEZE. Bad Weather Outside. 8 Days ...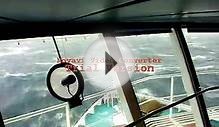 Rough Weather - Carnival Cruise Line Bridge Cam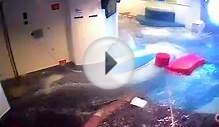 Rough Weather - Carnival Cruise Lines - Interior Flooding
Share this Post