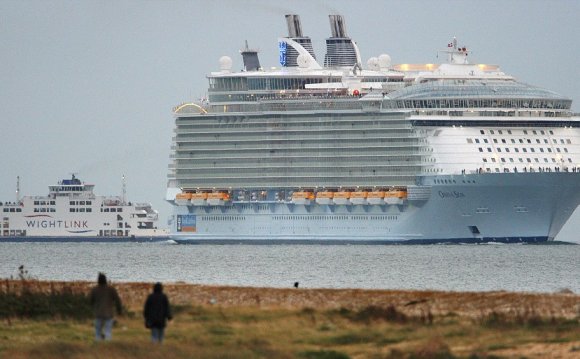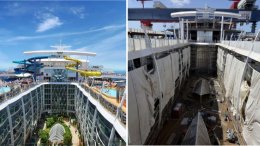 A rendering of the completed ship interior contrasted with a peek inside the ship under construction. (Royal Caribbean/Reuters)
Royal Caribbean's newest ship is still under construction but its already making waves as the world's largest cruise ship.
The Harmony of the Seas is currently being built at the STX shipyards in France near St. Nazaire. With the initial phase of exterior construction finished, the ship was floated out to the dry dock over the weekend to begin work on the interior.
When it's done, it will have 16 decks, encompass 227, 000 gross registered tons and measure over 1, 187 feet—164 feet longer than the height of the Eiffel Tower.
According to Royal Caribbean, the ship will have seven neighborhoods, including Central Park, Boardwalk, the Royal Promenade, the Pool and Sports Zone and and Youth Zone, with the capacity to carry over 5, 400 and 2, 747 staterooms.
Currently, Allure of the Seas, another Royal Caribbean cruise ship is the largest with a gross registered tons of 225, 282.
Some 2500 people are at work building the ship, which will require 970, 000 square feet of carpet and 132, 000 gallons of paint.
Royal Caribbean is outfitting Harmony of the Seas with something for everyone, with 20 dining stations, the Bionic Bar with robot bartenders, multi-story water slides, two rock-climbing walls, zip lines, an ice skating rink, a full-size basketball court and a miniature golf course.
Harmony of the Seas will be based in Fort Lauderdale but the ship is scheduled to sail from Barcelona through the Western Mediterranean during the inaugural season. Starting November 2016, the ship will sail throughout the Caribbean.
Source: www.foxnews.com
RELATED VIDEO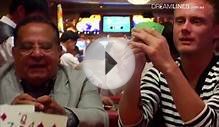 An Overview of the 10 Largest Cruise Ships in the World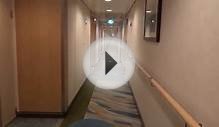 Length of Largest Cruise Ship - Royal Caribbean Allure of ...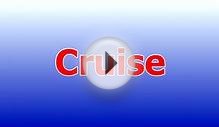 Largest Cruise Ship|Biggest Cruise Ship in the World
Share this Post