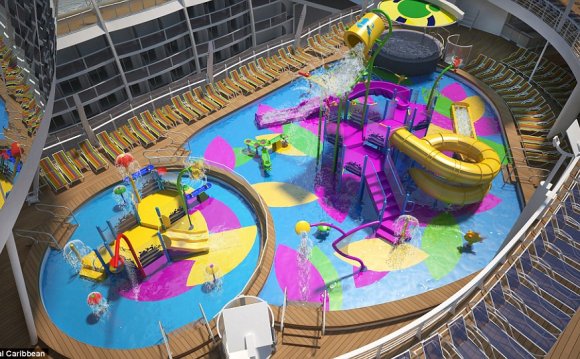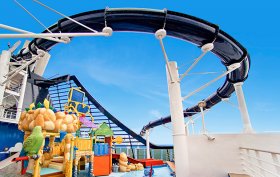 Cruise ship water parks are a top-deck jumble of cascading tubes in Crayola colors, cartoon characters playfully spraying into kiddie pools, and delighted screams that splash out of slides and from behind water cannons. Warm-weather itineraries touted year-round by most cruise lines make water playgrounds an attractive proposition for anyone in the family. However, the "best in class" of cruise ship water parks are being quickly one-upped by the "first in class" as cruise lines get creative with their brand-new ships. Innovative slides that thrill riders with drop-out floors, two-person floats and spiraling funnels will now include dazzling light effects, and expansive top-deck areas will add even more square footage and water features as cruise lines roll out their largest water parks to date.
Plus, the popularity of water parks on mega-ships means more cruise lines are adding them. Royal Caribbean has unveiled its first water slide ever on Harmony of the Seas, the third Oasis-class vessel in the fleet. Harmony will launch in spring of 2016 with three multilevel water slides that will twist and turn 10 decks above Central Park, a main thoroughfare.
In today's world of water parks at sea, four cruise lines stand out, not only because of their impressive and existing aquatic chops, but also because most have big plans for these exhilarating decks on future ships. Here are our favorites.
MSC Preziosa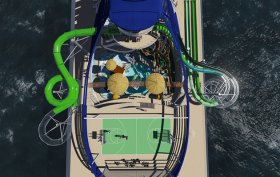 Mediterranean cruise line MSC Cruises aims to be family friendly, and it has solidified - or, rather, liquefied - this promise with an impressive water park atop its 2013 vessel, MSC Preziosa. Upon its debut, Preziosa claimed the longest single-rider body water slide at sea, known as Vertigo. At 394 feet long and 42 feet high, Vertigo includes a 30-foot transparent stretch over the side of the ship, quite possibly inducing its namesake. For children under 47 inches, the Doremi (think: "Sound of Music") water playground on Deck 16 features sprays, fountains, water pistols and a "drenching bucket" that is likely to elicit surprised screams from wet, unsuspecting victims.
MSC Seaside
Announced for late 2017, MSC Seaside is already living up to its name with an emphasis on the ocean below and a state-of-the-art water park to top off it off. The aquatic area will include five water slides: two high-speed racing slides with clear loops that extend over one side of the ship; Aquatube, an innertube slide; a flume slide for families; and an interactive Slideboarding tube, which combines video games, lights and music with a 367-foot water slide. How will it work? We'll have to wait to find out. Other water park offerings include an AquaPlay and AquaSpray park for young cruisers. Nearby, passengers tempting fate to stay dry can climb the Adventure Trail, a ropes course that will include spray cannons.
Carnival Fleet
Offering the largest fleet of water parks at sea by far, Carnival Cruise Line is known for keeping things fun and light, even while drenched head to toe. Twenty-one of the line's 26 cruise ships (including forthcoming Vista) feature at least one screwy water slide, and 10 have versions of the WaterWorks aqua park. Carnival Fantasy, Carnival Ecstasy, Carnival Sensation, Carnival Fascination, Carnival Imagination and Carnival Inspiration feature WaterWorks, each with a 300-foot slide and side-by-side racing slides among other water features. Carnival Breeze, Carnival Magic and Carnival Dream offer a 312-foot-long Twister water slide and DrainPipe, a 104-foot tube that empties into a giant funnel. Breeze and Magic also have PowerDrencher tipping buckets, mini-racers and splash parks. The WaterWorks onboard Sunshine edges out the other slides with a 334-foot-long Twister water slide, twin 235-foot-long slides that are part of Speedway Splash, mini-racers, a splash park, PowerDrencher and a total of 40 interactive water features.
Carnival Vista
Not to be outdone, Carnival Vista, debuting May 2016, will feature the fleet's largest WaterWorks water park to date, including an enclosed water tube Kaleid-O-Slide, on which riders make their way around 455 feet of twists and turns on one- or two-person rafts. As if that weren't dizzying enough, the Kaleid-O-Slide actually looks like a kaleidoscope, with colorful rotating lights and trippy visual effects.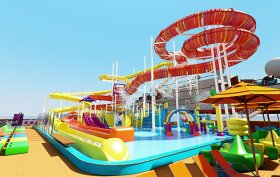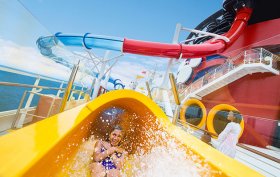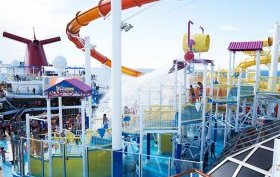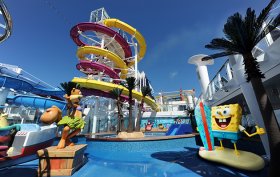 Source: www.cruisecritic.com
RELATED VIDEO
10 Best Cruise Ship Water Slides - Ports Of Call
Disney Magic Cruise Ship Aquadunk Water Slide Preview With ...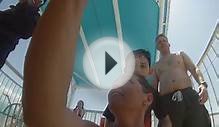 Carnival Dream cruise ship water slides filmed with GoPro
Share this Post