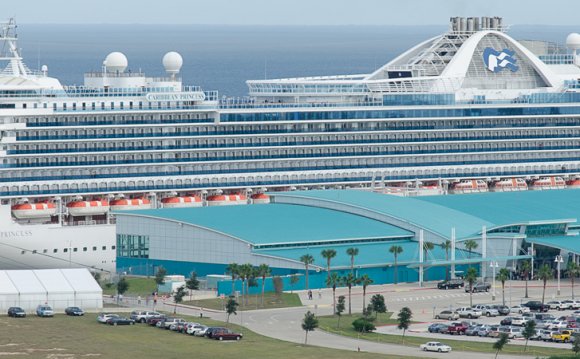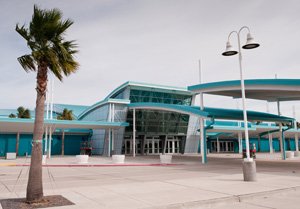 Cruise Information
The Bayport Cruise Terminal provides some of the finest, most modern and traveler-friendly amenities available today. Located on the western shores of Galveston Bay (click here for map), the Bayport Cruise Terminal's proximity to fine restaurants and hotels and access to both regional airports, Intercontinental and Hobby, make it an ideal point of disembarkation. The state-of-the-art facility combines visual appeal, passenger convenience, accessibility and innovative security systems.
Passenger access from parking and drop-off areas is immediately adjacent to the front of the terminal. Covered walkways connect the building to bus and private passenger drop-offs and taxi stands.
Once inside the terminal, the passengers' first-class experience continues in the expansive great area. The 96, 000-square-foot terminal is designed with materials specially selected to allow natural light to brighten its open and airy features.
The terminal is designed to direct passengers without confusion, while wide areas inside the terminal minimize congestion. Ample security stations reduce wait times for passengers while overhead plasma screens and signage display information. A sufficient number of counters also minimize delays by accommodating passengers quickly and easily.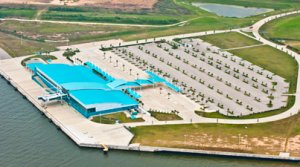 Once the check-in process is complete, passengers move to the second floor of the terminal to the passenger jetway system. The Bayport Cruise Terminal and its gangway system are designed to accommodate most ships and their entry ways. The wide, unrestricted wharf allows for the loading of provisions aboard the ship quickly and efficiently.
The cruise terminal building's low profile design and translucent blue-green wall panels are designed to give it an emerald-like presence reflective of the gentle waves of Galveston Bay. The cruise terminal is in Pasadena, a city nestled between Houston and Galveston Bay.
Passengers have the choice of two cruise lines sailing our of the Port of Houston. Sail to the Western Caribbean on Princess Cruises aboard the Caribbean Princess. Princeess Cruises is sailing out of the Bayport Cruise Terminal through 2016.
In 2014, the Emerald Princess made Houston its home port for western Caribbean sailings. Princess Cruises has been named by cruise industry travel agents as having the "best cruise line itineraries." Princess Cruises are on sale now at or call 800-PRINCESS.
Norwegian Cruise Line returned to Houston with its 2, 374-passenger Norwegian Jewel sailing on seven-day Western Caribbean cruises. To book a cruise, contact a travel professional, call Norwegian at 800-327-7030 or visit Enjoy watching as cruise ships arrive and depart the Bayport Cruise Terminal at this cam link.
Source: www.portofhouston.com
RELATED VIDEO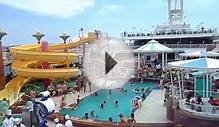 Norwegian Jade Cruiser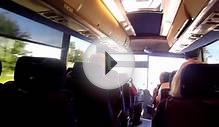 Back from Houston to the Cruise Terminal with the ...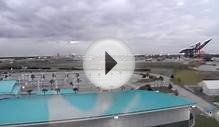 The Cruise Harbour by Houston USA from the Norwegian Jade
Share this Post