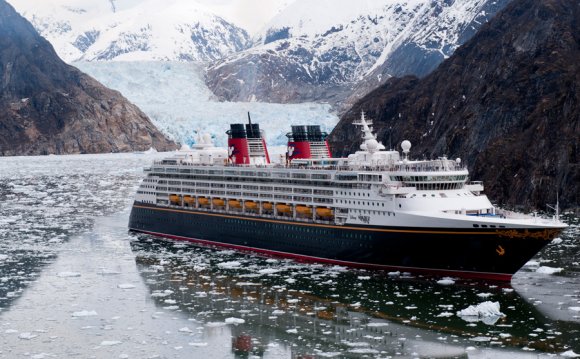 When you think of taking a cruise for vacation, you probably think of something luxurious, something adventurous, and something tropical, right? Well, how about something luxurious, something adventurous and something a little bit Arctic? Well, Disney Cruise Line has got ya covered. And trust me, you're going to love it.
Disney does it right. Always. From Tinkerbell's descent onto Cinderella's Castle in the Magic Kingdom for those nightly fireworks extravaganzas – down to those Mickey-shaped ice cream bars (seriously, who doesn't love those?) – to my latest foray into the Wonderful World of all things Disney – Disney Cruise Line to Alaska.
I chose the 7-Night Alaskan Cruise on the Disney Wonder. We set sail from Vancouver, British Columbia, then cruised along Alaska's Inner Passage, into four Ports of Call: Tracy Arm, Skagway, Ketchikan, and the one I'm about to tell you those most interesting adventure about: Juneau. Hang on to your Mickey Ears, this one is going to sound like a Disney fairy tale. But the following is all true.
First, a little background for what we're about to see: Juneau, Alaska's capitol, at 3200 square miles, is the largest state capitol in the US. And you learn quickly that everything is bigger in Alaska. Engulfed by imposing mountains and glaciers, today I decided to get a little air, and head straight to the top. Via helicopter. Seriously. As an optional Disney Cruise Line adventure, you can take the "Alaska Heli Mush" Tour. Hmm, wonder what the 'Mush' is for? I'm sure someone will tell me later. So, we board a helicopter (tip for fellow woozy travelers: bring the Dramamine) to get a birds' eye view of the beauty of America's Final Frontier. (cue dramatic music)
As we flew over the Tongass National Forest, it occurred to me, that for our pilot, this is just his regular morning commute, Alaska-style. But no Starbucks stops here. 'Flightseeing Tours', as they're called, will take you to some seriously remote spots. And I mean remote.
Now, here comes the fun part. Before we boarded this tiny beast, there was allegedly a little pre-flight instruction. At the time, I may have also allegedly been checking my lipstick in the ladies' room. This happens more often than I'd like to admit. So, suffice to say, I missed it, and didn't dare ask the pilot what our itinerary was. Oh well, it's Disney. It's got to be good, right?
So as we buzz along, high in the sky, the green forests turn into bright white snow-capped mountains, then solid chunks of gargantuan glaciers. (Aren't you glad you didn't stay on the ship and sip mai tais?) because now we're flying over the Juneau Icefield, in Alaska's Coast Mountain Range, and it covers 1500 square miles. Trust me, you'll be in awe of every inch.
Have you ever seen a glacier up close before? I certainly hadn't. Think of a watermelon. Green on the outside, pink on the inside. That's kind of like a glacier. When the white exterior ice chips off (and when I say "chip", I'm talking tons of ice crashing into the waters below) – you can see the inside, which is the most beautiful, pure, crystal blue you've ever seen. Like the bright blue waters of the Caribbean, just frozen. True crystal blue. Any description really won't do it justice, so thank goodness for iphones. So beautiful. Wish I could find a dress in that color.
Source: christinevanblokland.com
RELATED VIDEO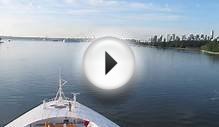 Disney Cruise Line - Disney Wonder to Alaska - Tracy Arm ...
Disney Cruise Line Alaska Cruise Disney Wonder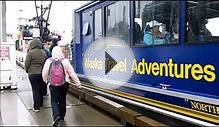 Disney Cruise Line Alaska-Juneau
Share this Post