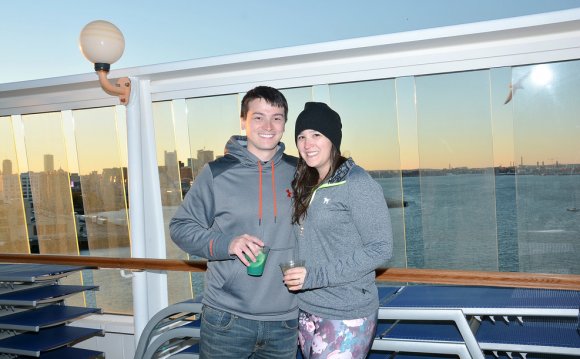 I recently returned from my 2nd Annual Girls Trip. A group of my girlfriends and I instituted this tradition last year in efforts to set aside time for just us to get away and leave behind the work worries, boyfriends/husbands, families and kids for a moment. You always need quality girl time! Last year it was a weekend in Mystic, Ct (You can find out more about our past adventure up on the blog Small Chick Big Deals which I also contribute to: ). This year it was Norwegian Cruise Line's "Cruise to Nowhere".
I received many questions from friends and family about what this so-called Cruise to Nowhere actually entailed. I thought what better way to share what this unique trip was all about then to blog about it!
So what is the Cruise to Nowhere? Norwegian Cruise Lines has set up a handful of 1 and 2 night itineraries (Out of NYC and New Orleans) on some of their ships that depart and return to the same port of call without any stops in between. Our cruise left out of NYC on a Friday afternoon and we were returned on Sunday morning. The ship simply takes a ride out into the Atlantic for a day or two and then comes back.
You're offered the same level service and activities that would be on a longer cruise. There were nightly shows and entertainment, full service in all of their food facilities, and the deck outside was fully operational (Pool and all…even though it was only 40 degrees out!) during our stay.
I have compiled my own personal list of pros and fun features of the ship (The Norwegian Breakaway- which was recently Awarded Best New Ship – Cruise Critic Editor Awards) along with some of the "misses" I encountered along the way.
The Fun Stuff
The nightly shows were outstanding! We saw Rock of Ages and Cirque Dreams (extra charge for Cirque). There was also a comedy show offered which we missed out on.
Cirque Dreams
Rock of Ages Stage
PLENTY of activities on board. Just to name a few: Murder mystery shows, bingo, singles travelers mixers, liquor tastings, a casino, game rooms, mini-golf, pool and water slides (full theme-park size!), rock climbing (I did this and I made it to the top-woohoo!), a ropes course, an all ice-bar (reservations required), cupcake making classes, spa treatments, dance clubs and classes, pretty much you name it…they have it!
The Climbers getting ready!
The Rock Wall we were about to challenge
Sonia taking on her climb
It's my turn!
All food is included (well that statement is a bit misleading….all the "free" establishments they have on board are included)
My room was comfortable and spacious (3 of us shared what they consider a suite).
Wine is BYOB. Norwegian Breakaway allows you to bring your own wine on board. There is a $15 corkage charge you will need to pay but, we found it was still a cheaper option than buying the bottles on board.
I thought the trip itself was a bargain at less than $300 a person for a suite, food, and all service and gratuity charges (This does not include alcohol and some activities).
view from the top of the ship's deck
The Misses
All food is included. I know, this was on my Pros list too. It is possible to go on this cruise and not spend a single extra cent on food if you eat at ONLY the included restaurants. However; the large majority of their eateries require an extra surcharge. They have exciting places I would have loved to try but they were above and beyond (Carlos Bakery…you know the one made famous by The Cake Boss and a Geoffrey Zakarian restaurant, Ocean Blue, were a part of that bunch).
The food quality at the free establishments were satisfactory…at best. Maybe I'm being a food snob? (I suppose it's a possibility). However; I feel for the price you pay for an all-inclusive trip the expectation that there will be quality food is justified. The pasta you order should be flavorful, the chocolate cake shouldn't taste like cardboard, and the late night wings shouldn't be so overdressed that they are soggy. Am I asking too much??
Alcohol and soda are not included. You will need to pay up for each drink you have during your time on board. Prices range from approximately $5-$12 for alcoholic beverages. (I won some money at the casino so lucky for me my drink bill was covered by the end of our stay!)
Breakfast Bingo libations
We saw all walks of life on this ship…couples, families, bachelor & bachelorette parties, and girls getaways (like us!). I thought the age range varied quite a bit.
The Norwegian Breakaway's next Cruise to Nowhere voyage is not until January 16th of 2015 out of NYC. You have plenty of time to get booked!
If you would like to try another one of their ships you can leave in November of 2014 on the Norwegian Gem out of NYC or the Norwegian Dawn in New Orleans.
All in all I thought this creative weekend getaway concept was a winner. I would do it again in a heartbeat and just put extra money aside to eat in the surcharge restaurants (We found the food quality to prove better in these establishments). If you decide to embark on one of these trips I hope you have as great of a time as we did!
Source: www.behindtheplates.com
RELATED VIDEO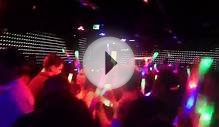 Glow Party on the Norwegian Breakaway Cruise to Nowhere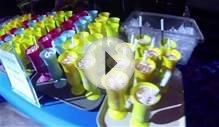 GoPro: Cruise to Nowhere on the Norwegian Gem 2014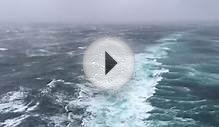 Norwegian Breakaway - Cruise To Nowhere - January 31, 2015
Share this Post