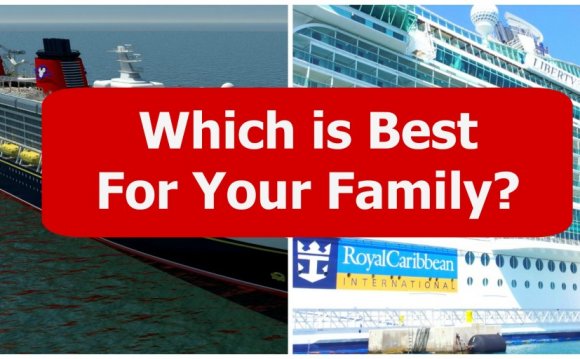 One of our regular Disney cruise clients, David from New Jersey, sailed on Royal Caribbean for the first time in June 2012. Thanks to David for sharing his thoughts on this Royal Caribbean Bermuda cruise, and how this experience compared to his past Disney Cruises.
We enjoyed the cruise and RCI. Of course a 9-night in a Junior Suite has spoiled us completely! Loved the room. One of the things we did was go to Cruise Critic and joined the meet and Mingle that had been set up for this cruise. One of things we did on the cruise with the "cabin crawl" where different cabin types were offered by the group to allow everyone to see each type. Good way to see each category and the differences (especially in size). Like I said we loved our Junior Suite. Plenty of room, a larger balcony and the closet was large. I was skeptical when someone said that it could be used as a changing room…it actually could be. We ended up with more drawer and storage space than we needed. With the NJ resident upgrade rate it was absolutely worth the additional $400 or so.
Another benefit from booking the JS was the check-in and embarkation process at Bayonne. Easy drive for us, just over 90 minutes. Sort of an odd set-up when your used to Port Canaveral. Sort of an elongated permanent "tent" type of structure outside with numbers spots for you to park to drop off and pick up luggage. Especially fun when you arrive as the prior cruise last passengers are departing, but form the time we first pulled in to the time was maybe 20 minutes and that included driving off to park and walking back to the terminal. Incredibly easy. Went through the security scanning and our large insulated water bottle was checked for smuggled alcohol. Since we had the "suite" notation on our documents, we were directed to a priority check-in area away from the regular check-in. No wait at all and then to a lounge with cookies, coffee, juice etc. and comfortable padded chairs.
At Bayonne, they bus you from the terminal to the ship (about a 45 second ride, but they don't want people strolling along the pier). The "Suite" group gets the first set of busses. We went up to the Windjammer for lunch and were the very first there. Got very crowded by the time we left as everyone else arrived. Went down to our deck at 1:15 just to see if any chance things had opened. It had and all of our luggage was already there. Have to figure the "suite" group gets priority luggage handling as well. Fun standing our balcony and looking at the Statue of Liberty.
We were unpacked well before the 3:15 muster drill. Not that it was unorganized, it wasn't, but DCL is a bit more efficient in that area. Left port on time around 4:00, and the 12-18 foot clearance under the Verrazano bridge was interesting to view from the top deck. Unfortunately two hours out of port, a gentleman suffered a fatal heart attack in the middle of the Promenade in front of the Café. Once we did not return to port or have a MedEvac helicopter arrive, I assumed the worst had happened. The family left the ship when we docked in Bermuda.
First night, we booked Portofino and had an excellent dinner. Great seas (1.5 to 3 foot swells) the entire trip up to the last full day returning to Bayonne. We ran into a disturbance and had 12-15 foot swells and near gale force winds. Still had a blast walking in those winds on the upper decks. As far as weather, we had 10 minutes of rain in Bermuda before the full sun came out, and then only a few showers while on board. Much better seas and weather than I anticipated in the Atlantic this time of year. Great temperature in Bermuda in the 80s and not too humid. St. Maarten and San Juan on the other hand were 90s and humid…and Labadee, Haiti had "interesting" heat and humidity, as well.
We didn't book any excursions. We've been to Bermuda twice before (once on our Honeymoon) and had seen most of the excursion sites and decided to explore the Dockyard area that had changed a great deal from the last we were there. WE were in St. Maarten last December and had done an island tour then. We just walked around Phillipsburg and shopped and ate at a restaurant we wanted to try (Chesterfield's – walking distance to the dock and well worth it).
San Juan offered such a relatively short period and odd times (dock at 7:00 a.m. and on-board time of 12:30 p.m.) that we just decided to walk in Old San Juan around the Fort area and take in the sights. Going to the Don Q rum tasting center at 11:20 was also fun!
RCI's private area at Labadee was nice (hot and humid…but nice). I'd probably rate it slightly above Castaway Cay in some respects. Hotter for sure, but a great deal of shade. The buffet picnic tables were placed nicely and did manage to catch a nice breeze. One small drawback was the craft market. You run the gauntlet walking by them, pushy sales attempts, but that wasn't unexpected. Just the constant sales chatter… Easy to say "no, thank you" and keep walking. Keep walking was the key, of course!
Source: familytravelgurus.com
RELATED VIDEO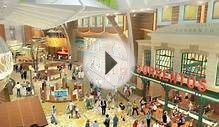 Royal Caribbean vs Carnival cruise lines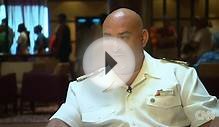 Best cruise lines include Royal Caribbean, Disney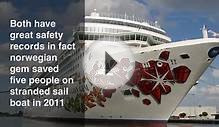 Norwegian cruise line vs royal Caribbean
Share this Post