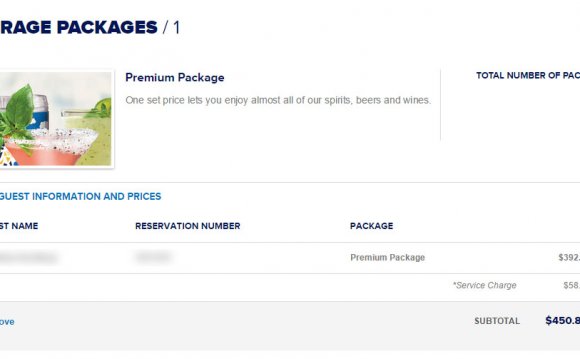 During the cruise, what will I need with me to get back on the ship?
At the pier, you will receive a SeaPass® card once you're all checked in. The SeaPass card is one of the most important things you'll have onboard - besides your camera and sunscreen. Your SeaPass works as:
| | |
| --- | --- |
| | Your room key |
| | Your boarding pass at all ports of call |
| | Our Specialty Restaurants - like Chops Grille or Portofino - offer amazing food in a restaurant atmosphere. |
Be sure to keep it with you at all times! What is an Onboard Expense Account? How does it work?
An Onboard Expense Account is the cashless system used for all onboard purchases and services.

The account may be set-up with either a credit card or as a cash account. You may establish a master account and add guests from your stateroom or another stateroom as authorized purchasers on your account.

For each purchase made onboard the ship you will receive a receipt at the point of sale. A final statement will be delivered to your stateroom on the last night of your cruise vacation for your review.

Guests that set up an account with a credit card should verify the statement. If all purchases are correct, they will automatically be billed to the credit card.

Guests on a cash account will need to settle their statement onboard prior to disembarking. The ship will provide you with specific details.

Are ATM machines available onboard?
All ships in the Royal Caribbean fleet have ATM machines. There is a transaction fee levied by BB&T, the owners of the ATMs, plus any other fees the guest's financial institution would charge. What are the gratuity guidelines for cruises?
Our suggested gratuity guidelines take in account our crew members that work hard to provide and maintain the highest level of service while sailing the high seas. Whether working behind the scenes or serving your evening meal, our staff and crew make sure you enjoy every moment spent onboard a Royal Caribbean cruise ship. What are the gratuity guidelines for the tour portion of a cruisetour?
To thank those who served you well, we generally suggest the following guidelines:

Alaska Cruisetour Gratuities
Adventure Specialist = $5 per person/day
Traincar Host = $3 per person/day
Motorcoach Driver = $4 per person/day

Europe Cruisetour Gratuities
Adventure Specialist = 5 Euros per person/day

Australia/New Zealand Cruisetour Gratuities
Adventure Specialist Australia = $5-10 AUD per person/day
Adventure Specialist New Zealand = $5-10NZD per person/day

Notice to Guests: Gratuities may be shared with other crew members depending on the particular service requirement.

Are there physically challenged facilities available onboard?
We're happy to say that all the ships in our fleet have physically challenged facilities available onboard. What activities are available for children and teens?
There's no better way to excite every member of your family than with a Royal Caribbean cruise vacation. We offer a huge variety of activities onboard and excursions on shore, so you can explore and have fun as a group or break out and do the things you each love most.

Many of our excursions offer the excitement and wonder that appeal to all ages. Be sure to check the descriptions to pick the ones your family will enjoy.

Onboard, our Adventure Ocean Youth Program offers adventure (and education) for kids ages 3-17 with different activities and programs for different age groups.

How do I find the hours and activities for Adventure Ocean?
We keep all the info on our Adventure Ocean Youth Programs right here online. Some programs do vary by ship and itinerary, and you'll find that noted in the program description. Are babysitters available onboard?
Babysitting is offered both in a group setting, and individually in your stateroom. In stateroom babysitting must be reserved through the Guest Relations Desk (Purser's Desk) at least 24 hours in advance.

It cannot be reserved prior to the cruise vacation and there is no guarantee that sitters will be available. The service is offered between 8:00 am and 2:00 am when personnel is available. Sitters will be assigned on a first come first served basis

Children MUST be at least 1 year old.
Approximate Rate: $19 per hour for up to three children within the same family.

Times and prices are subject to change without notice. Payment will be made using your onboard SeaPass card.

Is there a charge for skates or ice skating onboard? What size skates are there?
Skates and skating are complimentary on the ships with ice rinks, which are the Oasis-class, Freedom-class and Voyager-class ships. All skates are unisex. Long pants and socks are required to participate. We offer figure and hockey style skates in adult sizes only. Skates are very similar to regular rental boots rented at most ice rinks.

We carry the following sizes:
| | |
| --- | --- |
| | Children size: 2 - 7 |
| | Adult size: 1, 2, 3, 4, 5, 6, 7, 8, 9, 9.5, 10, 11, 12, 12.5, 13 |
What are the dress codes onboard?

Onboard Dress Code
Smart Casual: Ladies: Skirt or pants (no holes, rips or tears) with a blouse. Gentlemen: Pants (no holes, rips or tears) with a collared shirt.

Formal: Ladies: Cocktail dress or pantsuit. Gentlemen: Suit (black tie is optional)

Note: Swimsuits, robes, bare feet, tank tops, baseball caps and pool wear are not allowed in the main restaurants or specialty restaurants. T-shirts, shorts and flip-flops are acceptable for lunch.

Note: Smart Casual is allowed on Boarding Day at The Grande Restaurant (should only be included where we are speaking about The Grande)

What is Royal Caribbean International's Age Policy?
Royal Caribbean International's minimum age to sail unaccompanied on sailings originating in North America is twenty-one (21). The minimum age to sail unaccompanied on sailings from South America, Europe, Asia, Australia and New Zealand is eighteen (18).

The Company retains the right, on rare occasions, to raise the minimum age to sail unaccompanied on any sailing when local laws require or permit such a modification.

For voyages originating in North America:
No Guest younger than the age twenty-one (21) will be assigned to a stateroom unless accompanied in the same stateroom by an adult twenty-one (21) years old or older. A guest's age is established upon the first date of sailing.

This age limit will be waived for children sailing with their parents or guardians in connecting staterooms; for underage married couples; and for active duty members of the United States or Canadian military.

Certain other restrictions and conditions will apply; such as compliance with the age twenty-one (21) alcohol policy, and proof of marriage for underage couples or proof of active duty military status required.

INFANT POLICY
Infants sailing on a cruise must be at least 6 months old as of the first day of the cruise and/or CruiseTour. HOWEVER: For transatlantic, transpacific, Hawaii, select South American and other selected cruises and/or CruiseTours, the infant must be at least 12 months old as of the first day of the cruise/CruiseTour. For the purposes of this policy, any cruise that has 3 or more days consecutive at sea will require infants to be 12 months old on the first day of the cruise/CruiseTour.

Please be aware that guests travelling with a young infant that does not meet the infant policy will be denied boarding. No refunds or other compensation shall be due from the cruise line to anyone as a result of the denial of boarding to an underage infant or other accompanying guests.

Royal Caribbean International reserves the right to ask for proof of age. Royal Caribbean International's age policy for gambling and consumption of alcoholic beverages is as follows: Please note: An individual's age on the date of sailing determines his or her status for their cruise vacation. However, if a guest celebrates their 21st birthday during the cruise, the guest may thereafter ask the Guest Services Manager to modify ship's records to permit their consumption of alcohol during the remainder of the cruise. The guest will be required to appear at Guest Services with his or her parent or guardian and to present a government issued form of identification to establish that the guest's 21st birthday was celebrated during the cruise.

ALCOHOL POLICY
| | |
| --- | --- |
| | Effective immediatly on all sailings, the minimum drinking age for all alcoholic beverages on all Royal Caribbean International is as follows. |
| | |
| --- | --- |
| | The minimum age to consume alcohol on Royal Caribbean International ships on sailings originating in North America is twenty-one (21). |
Source: www.royalcaribbean.com
RELATED VIDEO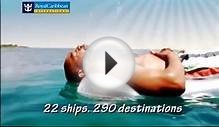 Royal Caribbean Cruises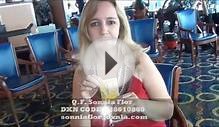 DXN TSI 2011 DXNLA DAY 3 ROYAL CARIBBEAN INTERNATIONAL CRUISE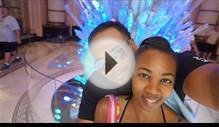 Royal Caribbean Cruise Day 3!!!!
Share this Post