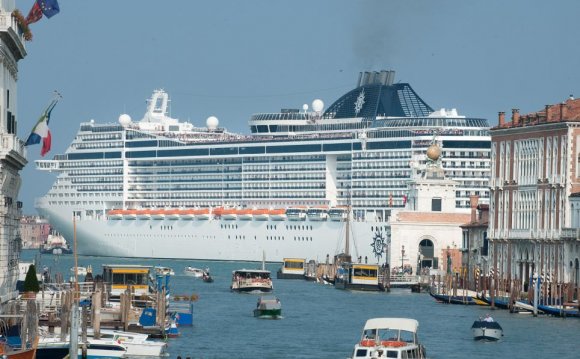 Experience timeless elegance in modern comfort
Prepare to meet a star of the MSC fleet. Created with De Jorio Design International to take the acclaimed standards of MSC's Fantasia class to an entirely new level.
Inspired by Sophia Loren herself, MSC Divina brings you all the elegance and glamour of the golden age of sea travel in a new vision. A spacious, ultramodern interpretation that pampers you with sumptuous comfort and an immense variety of sports and leisure facilities, plus world-class entertainment.
Let your eyes drink in the sheer scale, style and attention to detail. From MSC Divina's real stone piazza to her Broadway-size theatre. From the sweeping grace of her Swarovski crystal staircases to the calm of her Infinity Pool, extending seamlessly out to sea and the horizon beyond.
Discover the opulent enhancements to the MSC Aurea Spa wellness centre on board, and the even more spacious and exclusive MSC Yacht Club, with its specially-commissioned works of art. Discover the Sophia Loren Royal Suite. Lucky guests staying in suite number 16007 on deck 16 can revel in the glamour and style of a suite designed for, and with the help of, Ms Loren. Rich reds, specially designed lamps and a wild heather and red carpet have been chosen by her, while stunning photographs of her most memorable roles decorate the walls. A replica of the dressing table Ms Loren uses in her room has been fitted, allowing guests to get ready like a film star.
Want to sunbathe in peace and privacy? Soak up the sun in style in this adults-only sanctuary of serenity. Top 18 boasts premium deck space and stunning sea views, not forgetting its own dedicated spa service, bar menu and complimentary fruit skewers. For groups of friends, couples looking for a romantic hideaway or parents looking for some quiet time, Top 18 is the perfect place to relax, unwind and watch the waves go by.
Discover a cruise like no other on the spectacular floating city that is MSC Divina - a superb holiday destination in her own right, offering something for everyone at all times.
So you can explore the Mediterranean as she has never been experienced before, from the beauty of a ship that's simply divine.
Technical Characteristics of the Ship:
Built
2012
Gross tonnage
139.072 tons
Number of passengers
3.502 (on double basis)
Crew members
About 1, 388
Number of cabins
1.751, incl. 45 for guests with disabilities or reduced mobility
Length/Beam/Height
333, 30 m / 37, 92 m post panamax / 67, 69 m
Decks
18, incl. 14 for guests
Maximum speed
23, 75 knots
Average speed
18 knots
Environmental technology
Source: www.msccruises.com.au
Share this Post