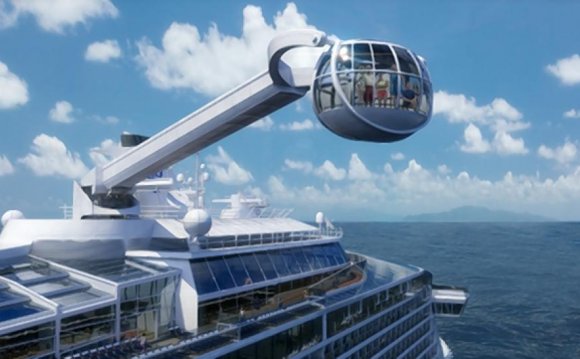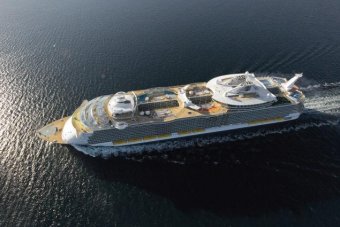 To be honest, the world's 10 largest cruise ships are more like small cities than little schooners. The various dining options are plentiful, the spas offer every treatment imaginable and the theatrical entertainment is world-class. Plus, there are zip lines, casinos, pool deck movie screens and more on these massive boats. While it might be more difficult to find some peace and quiet on these gigantic ships, you can rest assured that your entertainment needs will most definitely be served.
Allure of the Seas
Gross Tonnage: 225, 282
Length: 1, 187 feet
Royal Caribbean's Allure of the Seas is, as they say, large and in charge. Of its many superlatives, the cruise ship maintains a crew of 2, 384 to serve up to 6, 318 guests. It boasts seven neighborhoods, including a Central Park with plenty of trees; it also offers 25 different dining options, including the world's first Starbucks at sea. When Allure of the Seas isn't appeasing your appetite, the cruise ship tempts your adventurous spirit with two 43-foot-tall rock climbing walls and two surfing simulators, as well as a zip line that traverses nine decks. For more relaxing pursuits, you can test your luck at the 18, 000-square-foot casino or take in a show: The ship's main theater stages the Broadway musical "Chicago." To these enticements, the ship also adds a variety of Caribbean itineraries, truly making it an allure of the seas.
Oasis of the Seas
The 1, 187-foot-long Oasis of the Seas can comfortably accommodate up to 6, 360 guests. But this Royal Caribbean cruise liner also proves that quantity doesn't have to mean a sacrifice in quality. Although the ship contains 25 dining options, seven neighborhoods, numerous bars and more, it also maintains a high level of service with about a 1-to-3 crew-to-passenger ratio. Among the smattering of amenities you'll find four pools, one of which turns into an aquatheater at night where acrobats perform high dives and other tricks into a pool for the audience. Plus, there are amenities for adults and kids alike: The Vitality Spa offers everything from acupuncture to hot stone massages, and children will surely enjoy meet-and-greets with cartoon characters out of movies like "Madagascar" and "Shrek." To further entertain you, the ship also hosts performances of the popular musical "Hairspray, " and it even boasts a Coach store.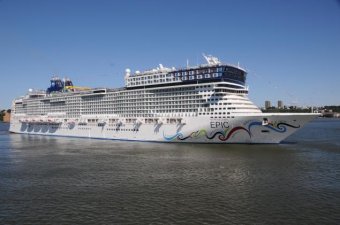 Norwegian Epic
Gross Tonnage: 155, 873
Schwartz, Michael, Freelance NYDN
The Norwegian Epic has a 31, 000-square-foot spa and fitness facility.
1, 081-foot-long Norwegian Epic certainly has some impressive features, but perhaps its most notable is the Aqua Park. This water park boasts three pools, five hot tubs and three several-story water slides, not to mention a 200-foot-long bowl slide - the first-ever at sea. Along with the Aqua Park, the Norwegian Epic also offers plenty of other activities to keep you busy at sea, like a bowling alley, a comedy club, a casino and a 31, 000-square-foot spa and fitness facility. Participating in all of these activities will surely work up an appetite, and you'll be well-served with 18 different dining options. Care for dinner and a show? This Norwegian ship also stages a live Cirque du Soleil performance, "Cirque Dreams, " which guests can enjoy while dining. Even though the ship welcomes up to 4, 100 passengers, the Norewegian Epic is well equipped to serve them with a crew of 1, 753 - that's one crew member for about every two guests.
Freedom of the Seas
Gross Tonnage: 154, 407
Length: 1, 112 feet
There is more than enough water to go around on the Freedom of the Seas: This Royal Caribbean ship features 10 pools and whirlpools in which to take a dip, and there's even a water park for the kids. But on this ship, there's freedom to spend your days outside of the water, too. Get your heart pumping on the rock climbing wall or on the ice skating rink, or relax in the 3-D movie theater or at the Vitality Spa. You'll have your pick of dining choices, too, with eight options ranging from sushi to ice cream to steak. And if you want to get hitched while at a cruising speed of 22 knots, Freedom of the Seas even features the Skylight Wedding Chapel. If there's not an itinerary that appeals to your interest on this ship, consider setting sail on one of its sister ships, the Liberty of the Seas or the Independence of the Seas, all of which are identical in size.
Independence of the Seas
Gross Tonnage: 154, 407
The Independence of the Seas spa menu alone speaks of its abundance of diversions: This Royal Caribbean ship offers more than 100 spa treatments, which range from 24-karat gold facials to acupuncture. If you'd rather spend your days doing some high-octane activity than getting pampered, this ship will keep you entertained with surfing simulators, a full-sized basketball court and a well-equipped fitness center. Then, you can wind down with a poolside movie or a delicious steak at the Chops Grille - one restaurant among a host of other options - before hanging out at one of the ship's 22 bars, clubs and lounges.
RICHARD DREW/AP
A bust of Queen Mary aboard the Queen Mary 2. The ship is geared toward retirees and hosts elegant balls at night.
is Cunard Line's flagship cruise liner - it's geared toward retirees and also hosts more refined activities than other cruise ships. For instance, daytime entertainment includes guest speakers with expertise in a number of fields, from history to art to wine. There are also acting workshops led by performers from the Royal Academy of Dramatic Art, as well as decadent spa treatments at the onboard Canyon Ranch SpaClub. Dining, as you might've guessed, is also a fancy affair with a number of white tablecloth options. When the stars come out, you'll find that the ship hosts elegant themed balls and musical theatre performances.
Norwegian Breakaway
Gross Tonnage: 146, 600
Length: 1, 068 feet
From the moment you board the Norwegian Breakaway, the largest ship to call New York City its home port, you'll find a host of activities vying for your attention. There's the top deck Aqua Park, complete with five multi-story slides. One of the most interesting features of the ship is a quarter-mile promenade that's lined with shops and restaurants. There's also, of course, a casino, a club and a spa. When it comes to entertainment, you'll have your choice of Broadway musicals, Cirque Dreams performances and even Second City comedy shows. Stretch your sea legs by sauntering over to the fitness center, where you can take an exercise class designed by the lead athletic trainer for those long-legged Rockettes. Another unique feature you'll find on the Norwegian Breakaway is the tasty restaurant, Ocean Blue, which showcases a delectable menu crafted by Iron Chef Geoffrey Zakarian.
Royal Princess
Gross Tonnage: 142, 229
JOE SKIPPER/REUTERS
Royal Caribbean's Oasis of the Seas, shown here, has 25 dining options for passengers.
' Royal Princess first set sail in 2013, but the atrium inside the regal ship looks like it's right out of 1900s-era Europe with its gold, glass and marble finishes and brilliant chandelier. Even with the Old World touches, guests can rest assured that the ship is completely up-to-date with modern luxuries. The SeaWalk, a glass-paneled walkway, extends 28 feet beyond the ship's edge to give guests an unparalleled closeness to the sea and sky. In the evenings, the ship unveils an enormous movie screen (the largest of any Princess ship) on the top deck that plays films under the stars. There's even an indoor driving range for golfers and a laser shooting range for the younger ones (or for those who are young at heart).
MSC Divina
Gross Tonnage: 139, 400
Length: 1, 094 feet
The MSC Divina is full of Italianate charms. This ship was actually "divinely" inspired by none other than Academy Award-winning Italian actress Sophia Loren. From the 150 fountains in the Aqua Park (that comes complete with a poolside gelato bar) to the piazza (that is surrounded by cocktail bars and shops), you'll surely enjoy the slow, graceful, Italian way of life aboard this MSC Cruises ship. You also shouldn't miss a dip in the infinity pool or a massage at the Aurea Spa, which offers ocean views from its floor-to-ceiling windows. And as you might've guessed, the dining options are also heavily (and heavenly) Italian.
Source: www.nydailynews.com
RELATED VIDEO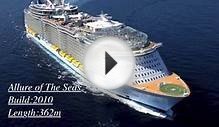 Top 10 Largest Cruise Ships in the World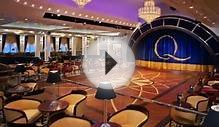 The 10 Largest Cruise Ships In The World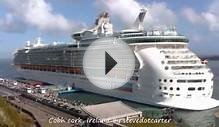 The 10 Largest Cruise Ships in The World - Facts and Photos
Share this Post